Diversity and Inclusion in the Workplace
Assess the situation in your company with the Babbel for Business workbook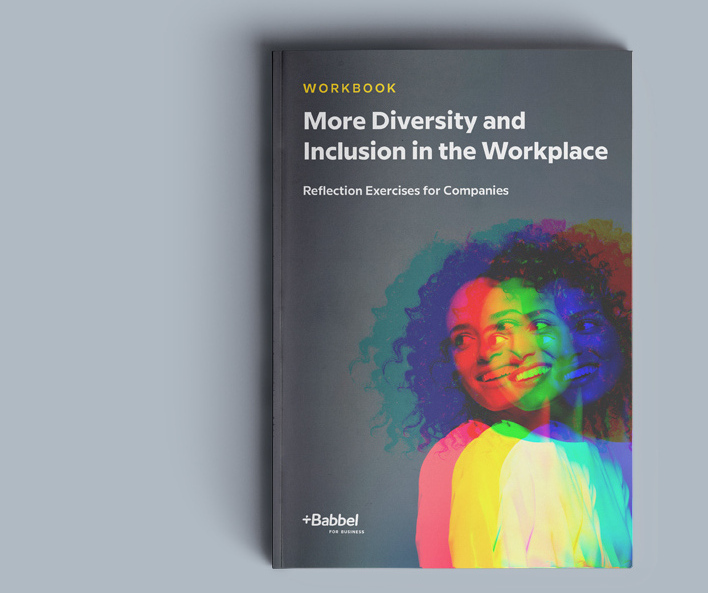 Diversity and Inclusion in the Workplace
Reflection Exercises for Companies
Diversity, inclusion, equity. Three increasingly important words for businesses that want to become more open and inclusive.

Babbel for Business has created a workbook with data, direct questions, and advice to help you and your company better navigate this complex topic.

In this workbook you'll find:
A theoretical part where we explain what diversity means and its impact in the workplace
A practical part, with a questionnaire to help you assess how inclusive your company is
Our tips for creating a more diverse work environment
Fill out the form to download your free copy
Blended Learning with
Babbel for Business
Our experts at Babbel for Business developed a unique Blended
Learning method combining individual self-paced learning inside
the Babbel app and interactive teacher-led video classes.
Learn all about our corporate language learning solutions
More than 800 companies trust Babbel for Business
"As an international software company with employees from over 50 countries, Babbel is the ideal tool for our team to improve their language skills or learn new languages, with little organizational effort."
"What convinced us about Babbel? The independence using the app, the direct contact through individual online lessons, and the freedom to learn when and where we want."
"I would recommend Babbel to other companies: It's practical and very interactive. I would encourage the combination of 1:1 lessons with the app for the most efficiency."
"Babbel is disruptive, matches our values, ideas, and objectives and is therefore the perfect employee benefit for us. Babbel has an impact on our company culture and only brings positive results."
"The team is pleased with the diversity of situations and interactions, and finds Babbel easy to use and fun."
"Based on Babbel's method and its content, our previous classroom language program, and our goals, we created a custom learning methodology that combines the best of both worlds and gets students to the next level."
"We wanted everyone to feel comfortable and confident communicating with each other — that's exactly what Babbel helps us do."