Language learning for the food and beverage industry
When introducing language courses in a company, it's normal to wonder: Does the product keep what it promises?
That's exactly why we've put together the answers to the most frequently asked questions for your industry.
This eBook will give you information on:
Why companies in the food and beverage industry should offer digital languages courses.

What measurable successes HR and management can draw from Babbel for Business.
How a lasting learning culture can be established.
How digital language learning works.
With the interactive group lessons of Babbel Live or the targeted 1:1 lessons of Babbel Intensive, your employees study a new language with purpose, in a motivating atmosphere with professional instructors.
Tailored learning content
On the Babbel language learning platform, your employees discover, in individual learning units, how to use a new language flexibly in their professional lives.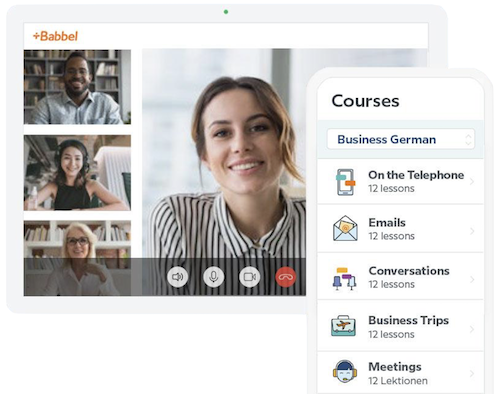 Perfect for everyday work: all the important vocabulary conveyed in short, snackable units. Your employees learn what they need – no matter where, no matter when.
Multilingual teams are not only happier and more productive, they also have more customer success.  Thanks to our usage reporting, you can easily track your team's progress.
More than 800 companies are already learning
with Babbel for Business
"As an international software company with employees from over 50 countries, Babbel is the ideal tool for our team to improve their language skills or learn new languages, with little organizational effort."
"What convinced us about Babbel? The independence using the app, the direct contact through individual online lessons, and the freedom to learn when and where we want."
"I would recommend Babbel to other companies: It's practical and very interactive. I would encourage the combination of 1:1 lessons with the app for the most efficiency."
"Babbel is disruptive, matches our values, ideas, and objectives and is therefore the perfect employee benefit for us. Babbel has an impact on our company culture and only brings positive results."
"The team is pleased with the diversity of situations and interactions, and finds Babbel easy to use and fun."
"Based on Babbel's method and its content, our previous classroom language program, and our goals, we created a custom learning methodology that combines the best of both worlds and gets students to the next level."
"We wanted everyone to feel comfortable and confident communicating with each other — that's exactly what Babbel helps us do."